Hey, so here is my Laval deck that I made, bent around quickly summoning Quasar. I allow myself some time to obtain the necessary cards for the combo through the use of cards such as One Day of Peace, Swift Scarecrow, Battle Fader, etc. The lvl 1 monsters also act as targets in the combo to bring out Quasar. The deck has proven to be very consistent, as I have managed to pull out Quasar every game I've played with this deck except two games against Dino Rabbit. The deck can also pull out double Quasar or 1 Quasar and 1 Red Nova Dragon. Here it is: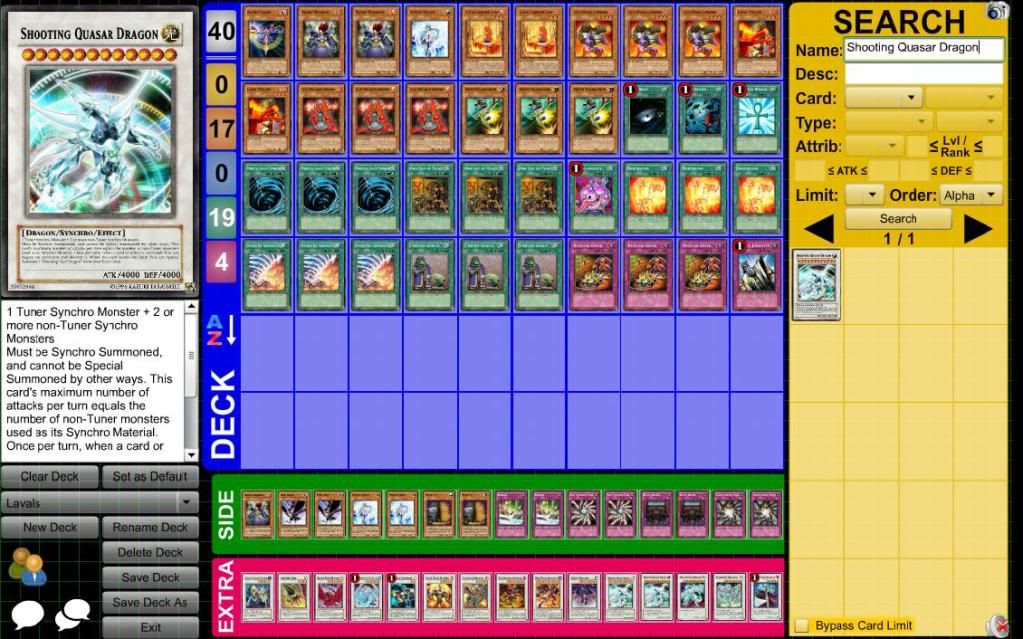 Decklist:
Monsters:
x1 Battle Fader
x2 Boost Warrior
x1 Effect Veiler
x2 Laval Lakeside Lady
x3 Laval Cannoneer
x2 Laval Miller
x3 Laval Handmaiden
x3 Swift Scarecrow
Spells:
x1 Dark Hole
x1 Heavy Storm
x1 Monster Reborn
x3 MST
x3 One Day of Peace
x1 Pot of Avarice
x3 Rekindling
x3 Sweltering Transmission Field
x3 Upstart Goblin
Traps:
x3 Reckless Greed
x1 Solemn Judgment
Extra:
x1 Catastor
x1 Armory Arm
x1 Black Rose
x1 Brionac
x1 Formula
x1 Laval Dual Slasher
x1 Lavalval Dragon
x1 Red Dragon Archfiend
x1 Red Nova Dragon
x1 Scrap Dragon
x2 Shooting Quasar Dragon
x1 Shooting Star Dragon
x1 Stardust
x1 T.G. Hyper Librarian
Side:
x1 Boost Warrior
x2 D.D. Crow
x2 Effect Veiler
x2 Maxx 'C'
x2 Debunk
x2 Light-Imprisoning Mirror
x2 Royal Decree
x2 Shadow-Imprisoning Mirror
So here is essentially the 4 card combo that pulls out Red Nova and Quasar in 1 turn. To do this, have Laval Lakeside Lady in the Grave. First, set up Graveyard by activating Sweltering Transmission Field, drop the typical Cannoneer, Handmaiden, Handmaiden, Handmaiden, Cannoneer. Next, activate Rekindling to bring them all out. Sync Cannoneer with Handmaiden for Hyper Librarian. Sync other Cannoneer and Handmaiden for Laval Dual Slasher. Normal Summon a lvl 1 non-tuner from your hand. Sync for Formula Synchron and sync altogether for Shooting Quasar Dragon. Then, activate Rekindling to Special Summon Laval Dual Slasher, Laval Lakeside Lady, another Lakeside lady, and a Handmaiden. Sync Lakeside Lady with Dual Slasher for Red Dragon Archfiend. Sync Lakeside Lady, Handmaiden, and Red Dragon Archfiend to obtain Red Nova Dragon.
Double Quasar is much harder, but more rewarding to obtain. Simply bring out the regular Quasar play, followed by a Pot of Avarice to return your Extra Deck cards (except Dual Slasher). Next, activate Rekindling and bring back Dual Slasher, Cannoneer, and two Handmaidens. Sync for Hyper Librarian, then Special Summon Boost Warrior through its own effect. Then, sync for Formula Synchron. Sync altogether to obtain second Shooting Quasar Dragon.
Thanks for reading and I hope to get tips to improve the deck.
Edited by Dcae, 14 August 2012 - 06:11 PM.