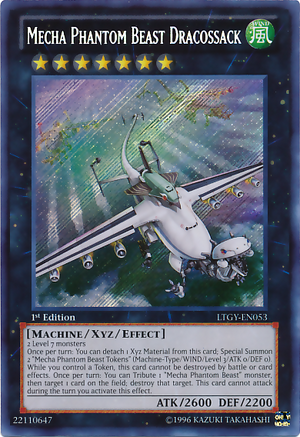 WIND / Rank 7 / Machine / Effect
2 Level 7 monsters
Once per turn: You can detach 1 Xyz Material from this card; Special Summon 2 "Mecha Phantom Beast Tokens" (Machine-Type/WIND/Level 3/ATK 0/DEF 0). While you control a Token, this card cannot be destroyed by battle or card effects. Once per turn: You can Tribute 1 "Mecha Phantom Beast" monster, then target 1 card on the field; destroy that target. This card cannot attack during the turn you activate this effect.
2600/2200
The ace monster of the Mecha Phantom Beasts that is sadly abused by the cruel Dragon Rulers. And for a good reason, its effect is incredible. Detaching once per turn for 2 free tokens is impressive (especially for the archetype it was meant to be used in), but being able to tribute any Mecha Phantom Beast monster (tokens, and even itself) to destroy anything on the field while at the same time being immune to destruction its (or any) tokens on board make it quite the fearsome monster to take down unless you have a Caius or Compulsory Evacuation Device at the ready.
Mecha Phantom Beasts make this card with ease, any Lv4 Mecha with 1 token on the board will boost them both to Lv7, thus being able to make this card. Dragon Rulers do it better, however, since they're Special Summoning machines and are already Lv7.
All in all, this card is a fantastic boss monster that'll either be a huge threat to your opponent, laughing at their silly Mirror Forces and Bottomless Trap Holes, or just easily be wiped away from an easy bounce/banish effect, the Mecha Phantom Beasts' weakness. It all depends what you're fighting. Even if it easily taken care of though, you'll still most likely get 2 tokens out it, so he'll never be a true waste to make. Long live Dracossack!
I love Mecha Phantom Beasts and I approve this message.