DISCLAIMER! Read Before!
Legend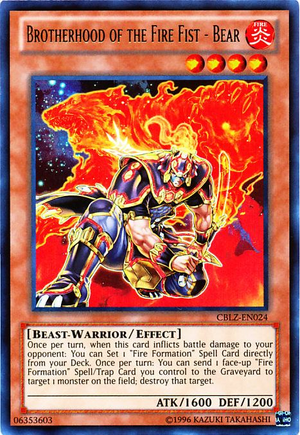 Card Information
Oh hello, well, you've most likely seen this card during this recent format before "Prophecy" and "Dragon Rulers" and "Evilswarm" become supped up on steroids, dominating pretty much themselves, and everything else.
But now, let's look back to another format that also had people wanting something from it to be hit on the Forbidden List. Generally, it's been this card, "Brotherhood of the Fire Fist - Bear". We've all seen him in the "Axis-3 Flame Star" in Japan, and the "Level 4 Beatdown Fire Fist" everywhere else. It has a one card setup from it's respective spell, "Fire Formation - Tenki", which allows you to add 1 Level 4-or-lower Beast-Warrior Monster from your Deck to your Hand. Well...first thought if your opponent has a big monster, is you wanna grab this guy, "BotFF - B" (shortened name). Sure, the monster is good is his own Archetype as a deck, but we've seen some diversity out of this little guy, ranging from "Fire Fist" to "X-Saber" to "Constellar" to "Wind-Up".
In "X-Sabers", we have "XX-Saber Boggart Knight", who is a 1900 SS another monster from Hand monster. But the interesting part is, is that he is a Beast-Warrior. Opening up usage for "Fire Formation - Tenki" and "BotFF - B"(as a tech).
In "Constellar", everybody knows that the most common play is Summon "Constellar Algeidi/Pollux", summon "Constellar Kaus", make them both a level 5 by "Constellar Kaus"'s effect twice, and summon "Constellar Pleiades". Worthy thing to note, "Constellar Kaus" is a Beast-Warrior, again opening the two aforementioned cards that you can use.
Likewise, in "Wind-Ups", they too have been known to overwhelm the opponent in a massive swarm of Xyz Monsters that can really screw up what you had in mind for a duel. Like the other archetypes, "Wind-Up" have their own Beast-Warrior, the floater, "Wind-Up Rabbit". Using "Fire Formation - Tenki" with "Wind-Up Rabbit" opens a 1500 floater that'll come back unless you have a full Monster Field. "BotFF - B" is also a viable card to use, but not too many, as Rank 4 Xyz Monsters aren't extremely common in "Wind-Ups."
So really, we see a diverse array of decks that "Brotherhood of the Fire Fist - Bear" can go into. Most of them are in the Xyz department, but they really are worth the time to consider the two cards. The only bad thing really about "BotFF - B" is that he's prone to "Effect Veiler" stopping another "Fire Formation" search, and he's only 1600 ATK, which is good, but with everything roaming around now that's about 1900+, it kinda puts everything on a downer for his guy. "Fire Formation - Tenki" boosts him to 1700, but that really isn't much difference in today's format. Again, with "Effect Veiler", hand traps are more and more common, so it's seeming that "Fire Fist" cards have had their time in the limelight of Yu-Gi-Oh!, but I think it's time to move on, no?
Hope you enjoyed,
~ Professor Banner
Edited by !_ _Professor Banner, 07 June 2013 - 06:20 PM.