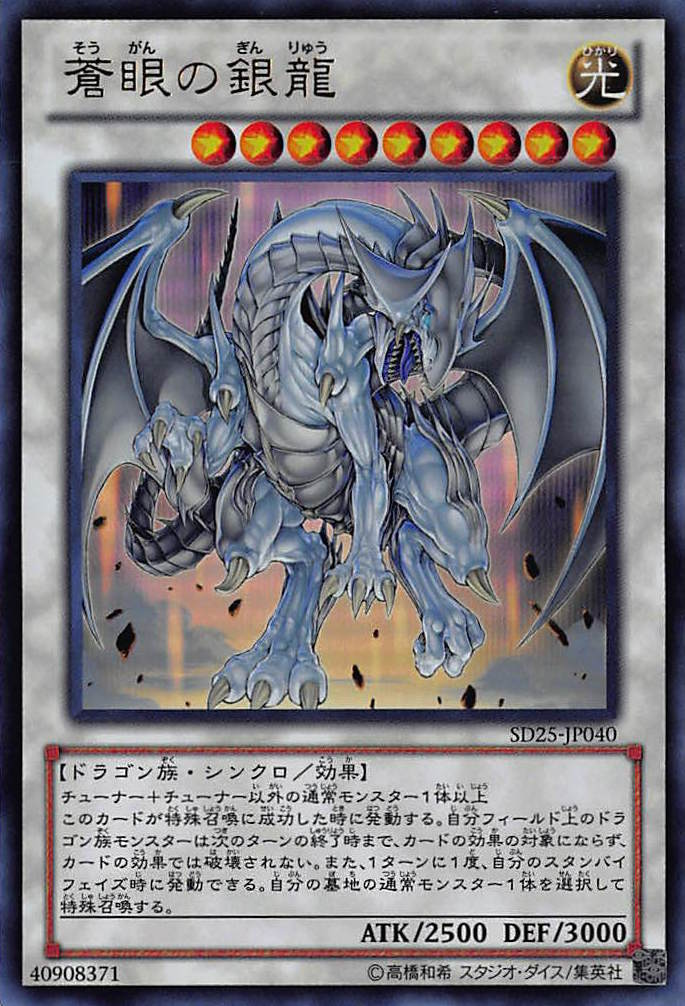 Azure-Eyes Silver Dragon
Level 9
LIGHT, Dragon/Synchro/Effect
ATK: 2500 DEF: 3000
Effect: 1 Tuner + 1 or more non-Tuner Normal Monsters
When this card is Special Summoned: Dragon-Type monsters you currently control cannot be targeted or destroyed by card effects until the end of the next turn. Once per turn, during your Standby Phase: You can target 1 Normal Monster in your Graveyard; Special Summon that target.
One of the two monsters that makes a BEWD deck actually halfway decent (or good in my opinion) hell it's normal monster (and Gemini) support in general, it's not just limited to BEWD however it is in decks that utilise dragons that this guy gets the most out of its effects. I haven't lost when I've summoned this guy (and now that I've said that the next duel I go into and summon this guy in, I'll probably lose) which proved its power to me, being able to protect your dragons from destruction and effects that target on not just on your turn but your opponent's as well as your next turn is a pretty powerful (and useful) effect and the ability to bring back a beater (usually) is an added bonus, this guy can turn BEWD into a gates boosted Grapha (only with Honest support.)
His attack and defense are also pretty impressive (well attack not so much) being the inverse of BEWD's which makes him pretty durable, however he's probably going to spend most of his time in defense until you decide to finish your opponent off. His protection effect also has a flaw; any effect that doesn't target or destroy (Spellbook of Fate immediately comes to mind) can get through, it's not a big flaw (I can't name too many cards that don't target or destroy in the same effect) and his resurrection ability only applies to vanilla monsters (although that's probably a good thing given REDMD's place on the lists) so it does cut down on his usage as does his summoning conditions. But all in all the pros far outweigh the cons with this guy and thanks to him and Maiden Blue-Eyes is actually relevant, probably.
Edited by kpnut, 10 July 2013 - 03:04 PM.