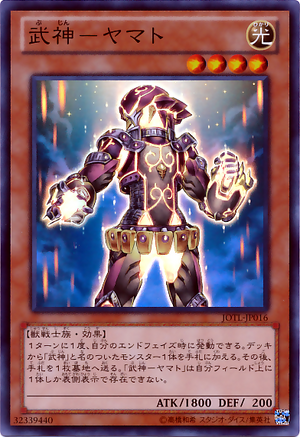 Level 4, LIGHT, Beast-Warrior/Effect
1800/200
Once per turn, during your End Phase: You can add 1 "Bujin" monster from your Deck to your hand, then send 1 card from your hand to the Graveyard. You can only control 1 face-up "Bujin - Yamato".
Such a simple yet incredibly flexible one-for-one ability. Such is what you'd expect from the cornerstone of the Bujin archetype. I have to say, having used the War Gods (Bujins) for some time now, this guy can be quite broken and is indeed questionable design as a card that essentially can do anything on his own. Main reason is that he can search his own mini Honest (Habakiri) while setting up the grave for massive defense and offense with Hetsuka and Murakumo. Add on that he is a Tenki target and gets all the benefits of being a Beast-Warrior. Kinda goes with being a one-man army as the deck is entirely dependent on his presence and suffers once he leaves the field (though this will be somewhat remedied by Mikazuchi. Bad design or not, he will be the first of the War Gods to make his power known in the TCG with the upcoming Judgment of Light. Discuss!!!
Edited by ShiningEmperorHope, 09 July 2013 - 01:29 AM.