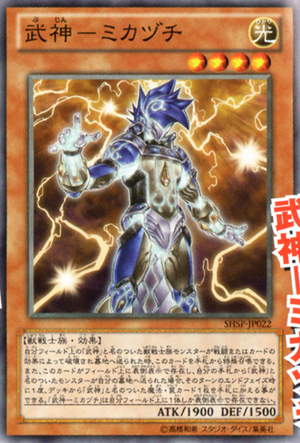 Level 4, LIGHT, Beast-Warrior/Effect
1900/1500
When a Beast-Warrior-Type "Bujin" monster you control is destroyed by battle or by a card effect and sent to the Graveyard: You can Special Summon this card from your hand. During the End Phase, if a "Bujin" monster was sent from your hand to the Graveyard previously this turn: You can add 1 "Bujin" Spell/Trap Card from your Deck to your hand. You can only control 1 face-up "Bujin - Mikazuchi".
From Shadow Specters arrives a new War God to compliment his predecessor Yamato. Though best in collaboration with Yamato on the field, which his eff is designed to work with, by grabbing Bujin spells and traps such as Rise of the Bujin for future big plays, he is also nice insurance for when Yamato takes a fall. As a Beast-Warrior War God, receives all the benefits from the Relics. Discuss!!!
Edited by ShiningEmperorHope, 09 July 2013 - 01:32 AM.